"Joanna has a wonderful gift of engagement with students and clients. She integrates the principles of Body-Mind Centering with her practical knowledge of occupational therapy."
—Bob Lehnberg, Teacher of Body-Mind Centering® and Co-founder of Kinesthetic Learning Center
"Joanna is a wonderful presence in every way; she embodies the prinicples of Healing from the Core with such grace."
—Participant, Full Body Presence Core Workshop
Joanna Haymore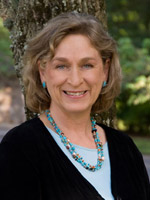 Joanna Haymore, MS, OTR/L, Healing From the Core: Full Body Presence Certified Instructor, has a private practice as an occupational therapist using CranioSacral Therapy, Visceral Manipulation, Sensory Integration, and Body-Mind Centering® to work with children and adults.
Joanna graduated from the University of North Carolina at Chapel Hill with a Masters in Occupational Therapy in 1994. She is a Registered Movement Therapist with the International Somatic Movement Education and Therapy Association and a licensed massage therapist NCBMBT #637. Ecologian Thomas Berry inspired her work as a creative editor and writer for the The Ecozoic Reader: Wisdom of Women.
Joanna believes in the human potential to live lovingly with oneself, other beings, and the planet, and offers classes and individual work to help achieve that goal.